Reading Time: 7 minutes approx.
Massive Protests Erupts And Nepalese People Sat indian flags on Fire As india Trying To Illegally Annex Nepalese Territory Of Lipulekh Pass:
It seems that the indian government and indian security forces didn't learn anything from the international utter humiliation it embraced by CHINA during the Doklam Dispute in which CHINESE forces forced indian forces to withdraw from the territory of Doklam.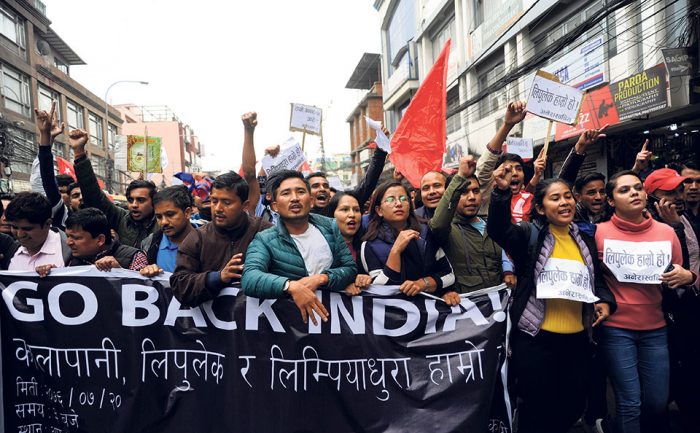 Now, india is in news again and yet for bad reasons as usual. In a recent development, Huge protests erupted in Nepal and Brave Nepalese people sat indian flag on fire, as india is trying to illegally occupy the Nepalese Territory of Lipulekh Pass to construct a road for pilgrimage.
Massive protests erupted in Nepal and Nepalese People burn indian flags in front of indian Embassy in Kathmandu over over indian illegal attempt to annex Nepalese Territory of Lipulekh Pass.#backoffindia pic.twitter.com/V2O2zKYCVz

— PAKDEFENSE.OFFICIAL (@PAKDEFENSE_COM) May 17, 2020
According to the details, india is trying to illegally occupy the strategic Lipulekh Pass, which as a strategic value and situated at an altitude of 5,000 meters.
This is the official and legal territory of Nepal and it was used as a transit route for pilgrims and traders between Nepal and Tibet, which is part of CHINA.
The Nepalese Territory of Lipulekh Pass has a very commercial and strategic value that's why india is trying to occupy it. However, the Nepalese has taken up the matter proactively with different stake holders against india, after it has received wide-ranging support from general public, civil societies and political parties.
The Lipulekh Pass is a three-way junction that has links with three major CHINA and Nepal that's why india wanted to illegally occupy it. As soon as the news of indian illegal occupation surfaced in Nepal, the Brave Nepalese People come out of their houses despite the ongoing Covid-19 pandemic and starts massive protests against india. 
The Nepalese people starts protesting in different parts of the Kathmandu and they also move towards the indian embassy, where they sat fire indian flag over the illegal annexation of Strategically located Lipulekh Pass.
The Nepal Foreign Ministry has forcefully condemned the illegal indian attempts to annex its territory. The Nepal foreign Ministry also summoned the indian ambassador to Nepal and record harsh protest over the attempts of illegal annexation.
"The Government of Nepal has learnt with regret about the 'inauguration' yesterday by India of 'Link Road' connecting to Lipulekh (Nepal), which passes through the Nepali territory," Nepal Foreign Ministry said in an official Statement on Saturday.
Back-Off india:
The Brave Nepalese People who are protesting the illegal attempts to annex Lipulekh Pass are holding the Placards depicting Back-Off india and india stole Nepal's Land.
CHINA Factor:
Top Defense Analysts are claiming that Nepal has a golden chance to get involved CHINA in this issue. As the Nepal's Strategic Lipulekh Pass also made a junction to CHINA, so Nepal can ask CHINA to Not Open its border for pilgrims and movement of goods through this strategically located transit route. Nepal can further assert CHINA that permanently closed its border for this route, as it would be an infringement upon the Sovereignty of Nepal.
While the whole world is fighting against #COVID__19 India is trying to occupy Lipulekh. Shame on India.#BackOffIndia #Shamelessindia#shamelessmodiforces pic.twitter.com/Zzty6sMw6n

— PAKDEFENSE.OFFICIAL (@PAKDEFENSE_COM) May 17, 2020
It is important to mention that CHINA has high stakes in the issue, if CHINA decides to completely close its Border for the route, then all indian plans of illegal annexation would be failed miserably.
CHINA has previously humiliated all the indian security forces and its government during the Doklam episode back in 2017, where the indian security forces forced to retreat over the fear of full fledge war with CHINA. CHINA has done it previously and CHINA is more capable to done repeat this humiliation in an efficient manner once again.
The Brave People of PAKISTAN are Standing Shoulder to Shoulder With Brave People of Nepal against indian attempt of annexing the legal Nepalese territory of Lipulekh Pass.#BackOffIndia#shamelessindia#indianillegaloccupation pic.twitter.com/BBqACHeGvX

— PAKDEFENSE.OFFICIAL (@PAKDEFENSE_COM) May 17, 2020
It is important to mention that back in 2015, the Nepalese Government sent as note to both CHINESE and indian government after the pilgrimage and trade agreements. Nepal
Other Options for Nepal on the Table:
The area of Lipulekh Pass, although a legal territory of Nepal, but a matter of concern for Nepal is that it has security or administrative presence in the area. Nevertheless, the Government of Nepal has finally decided to send a contingent of Nepal Paramilitary Force or Nepalese Special Forces.
Reportedly, the Special Forces of Nepal would be

armed

with lethal and state of the art weapons to defend the territorial integrity of Nepal in the region from nefarious indian designs.
United Nations and International Court of Justice (ICJ):
Finally, Nepal can also go to the good offices of the United Nations to take its just and legal case india that would help india to stop from its nefarious designs in the region.
Furthermore, the Nepalese Government can also contact the International Court of Justice (ICJ) to hold indian accountable and answerable in front of the international court over its heinous acts.
We are sorry that this post was not useful for you!
Let us improve this post!
Tell us how we can improve this post?