Reading Time: 6 minutes approx.
CHINA Gives Top Secret Clearance To PAKISTAN ARMY Over Its Secretive Military And Intelligence Gatherings:
In an unprecedented and unusual move, PAKISTAN's Iron Brother and All Weather Strategic Ally, CHINA has given Top Secret Clearance to PAKISTAN ARMY over its Secretive Military and Intelligence Gatherings.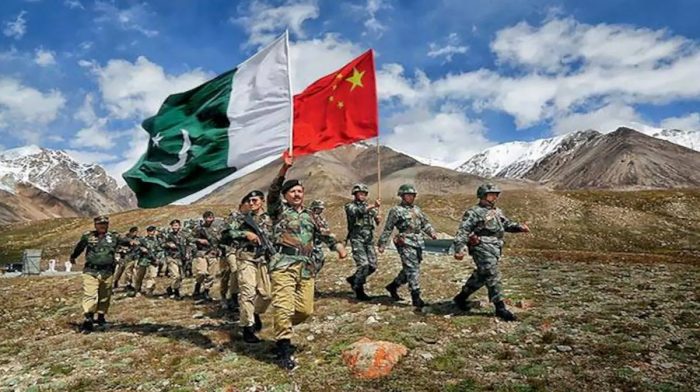 According to the details, PAKISTAN's Iron Brother CHINA has provided Top Secret Clearance to PAKISTAN DEFENSE Ministry Officials to use and interact with the Secretive CHINESE Intelligence Infrastructure under the aegis of the Joint Staff Department of the CHINESE Central Military Commission.
Although very little information publicly known about the Joint Staff Department of the CHINESE Central Military Commission, it is known from reliable, credible and authentic sources that it is considered as the most secretive military and intelligence gatherings of CHINESE Top Level Defense Officials under the command of CHINESE President, H.E, Xi Jinping.
Only Top Level Military Officials from all the respective Services of CHINESE Forces participate in these meetings to devise strategies and to implement the decision threatening the internal and external security paradigm of CHINA and region as a whole. 
The top secretive intelligence and military meetings under CHINESE Central Military Commission is chaired himself by the CHINESE President, H.E,. Xi Jinping.
PAKISTAN's Iron Brother CHINA Gives Access to PAKISTAN over its Top Secretive Intelligence and Military Gatherings . . . 🇵🇰🇵🇰🇨🇳🇨🇳 pic.twitter.com/Lp4Dr7dWJi

— PAKDEFENSE.OFFICIAL (@PAKDEFENSE_COM) August 20, 2020
After the unusual and unprecedented Intelligence Sharing Agreement between PAKISTAN and CHINA, A senior General from PAKISTAN ARMY will participate in the all the Top Secretive Military and Intelligence gatherings of CHINA from now on.
The Top Ranking PAKISTANI General will take part in all top level CHINESE Secretive Military and Intelligence Gatherings as an Observer.
After the unprecedented Intelligence Sharing Agreement, CHINA will get access to involve in a number of high-level Socio-Economic activities in Afghanistan.
According to the details, a CHINESE State owned minerals exploring company and outbid everyone to win rights over the whooping 11 million tons copper reservoirs in a war torn country Afghanistan back in 2007.
The total value of the deal was more the $3 Billion, but the actual working on project couldn't be started due to the volatile security situation of Afghanistan.
Now, at the time when US has decided to leave Afghanistan, CHINA will come forward as a major and global key player to fill the gap in Afghanistan.
US, who is now withdrawing its forces after defeat in Afghanistan, has failed miserable in its tenure to pacify the warring party of Afghanistan Taliban in a series of stalling peace talks.
On the other hand, PAKISTAN's Iron Brother CHINA has managed to develop relations with all the major key players of the region with a series of technology and military sharing agreements.
The Two Iron Brother Countries and All Weather Allies, PAKISTAN and CHINA, are both working extensively on the multi-billion dollar project of the CHINA PAKISTAN Economic Corridor in order to create a global trade corridor under the banner of "CHINA's One Belt and Road Initiative (OBOR)."
CHINA has pushed a large amount of much-needed capital in different parts in PAKISTAN in support of the CPEC project specifically and the PAKISTANI economy in general.
"With the CHINESE, we have a special relationship. And—it's the way CHINA functions—any issues like these we talk to them privately, we don't make public statements, because that's how CHINA is," PAKISTANI PM said during his last visit to CHINA back in September 2019.
"CHINA came to help when we were right at the rock bottom," he added.
Reportedly, india, who is the arch enemy of Both PAKISTAN AND CHINA, has tried its level best to create obstacles in the project by instigating violence through indian funded terrorists in PAKISTAN, but india has failed miserably so far and all its terror related ambitions and terrorist networks have been neutralized by PAKISTANI Security and Intelligence Agencies.
indian spy and monkey, Kalbushan Yadav, is also arrested by PAKISTAN SECURITY FORCES from Balochistan back in 2016 and he is now waiting for his humiliating death in the coming months from now.
Top Defense Analysts in the world have closely examined and unprecedented intelligence sharing agreement between PAKISTAN and CHINA and termed it as a significant milestone in the relationship between the two Brotherly, Friendly and Neighborly Countries.
Reportedly, the Unprecedented Intelligence Sharing Agreement between CHINA and PAKISTAN has caused sleepless nights in the top level defense circles in india, which seems understandable in the present hostile situation india had between both CHINA and PAKISTAN.
We are sorry that this post was not useful for you!
Let us improve this post!
Tell us how we can improve this post?